Planning is good business as in pretty much everything else in life. Sitting down to figure out what you're going to do before you do it can save you time, money, and just make things easier. However, you don't always have time to do things beforehand. Sometimes, you have to do things "on the fly," "in the moment," and make it up as you go along. "Flexibility" can mean a lot of things, but one definition is "changing with the circumstances." If you haven't had time to ask Danny Star a digital marketing question yet, there's still time.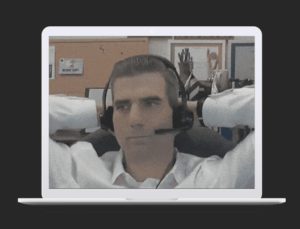 What Could Be Improved About Your Business? 
If you're unsure about what would be a good question to ask, maybe start there. Think about your business, think about what's working with your marketing, and then maybe consider what's not working, too. Is there something you would like to make better about your business? Does one particular product or service maybe not sell as well as you'd hoped? 
Alternatively, maybe your business is doing great, and you're just looking for one way to make it go that much further. Perhaps there's a kind of customer, or particular customer base that you know your business would be perfect for, but so far, it's just out of reach. These are all of the kinds of things that could be asked in one question to Danny Star.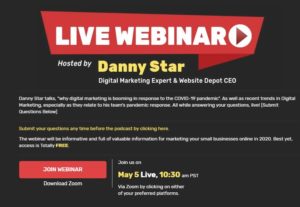 If You Want to Ask Danny More than One Question…
… That's OK, too! During the pandemic, Danny is offering a free copy of his book as well as a free half hour consultation. During that time, you'll be able to ask much more than just one question. You can check out the podcast at the Website Depot site on 5/5 at 10:30 AM Pacific Time.