What They Do: 
Delicious, sustainable gourmet food. Malibu Gift is more than that, but that's perhaps the most important thing to know about them. 
They offer natural and clean gourmet food that is the epitome of "casual luxury." Truffles, cookies, wine glasses, dog treats and more – each of their products are truly "Malibu." 
That said, the other word in their name is important, too: "gift." Literally everything they offer makes a great gift to practically anyone in your life. 
What We've Done for Them: 
In the last couple months of these blogs, we've tended to highlight digital marketing clients who made some change to better fit the pandemic. Bankruptcy attorneys, environmental cleaners, security companies, and so forth – these are all industries that may have tangentially offered something that could fit COVID-19 pandemic living. But, they altered what they did to better fit the time. 
Malibu Gift may seem like they haven't changed to fit this time, as truffles, cookies, and more might seem a bit frivolous at such a difficult time. However, the opposite is true. These gifts are more important than ever. When the world is harsh and challenging, it becomes all that much more important to be able to bring in a ray of light, positivity, and hope.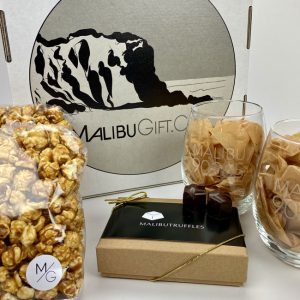 Delicious cookies, incredible gourmet popcorn, dog treats that will get tails wagging seemingly forever – these all matter as much as they ever did before. To adapt even better to this time. Malibu Gift now offers customized gourmet treat gift boxes. There, people can put together a box of their four to five favorite items. 
That way, folks can make a gift box truly their own. Happy, life-long memories can be made on any occasion, any day, and even in a time like this. That's the promise of Malibu Gift. 
We've helped them to rank even higher for many of their biggest keywords. For example, as of this writing, they went up 13 spots in one month with the keyword "Malibu wine glasses," and 18 for "natural gourmet food gifts." Of course, the most important Google spot is the top one on the first page – where they are for nine of their keywords. 
To help your company rank that much higher no matter what you do, you can schedule a consultation with Danny at a reduced COVID-19 rate when you call: (213) 457-3250.