What They Do: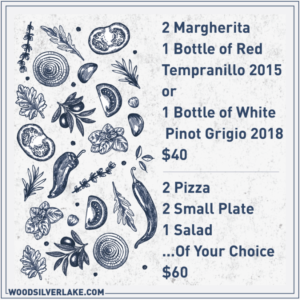 Pizza. Sure, they have plenty of great wines, sandwiches, and more. But, Wood Silverlake's specialty is wood-fired Neapolitan pizza.  They have a tremendous Happy Hour, handmade pasta, and more. But, as we said, they're best known for their wood-fired pizzas. 
During the pandemic, they've done a great job expanding exactly how they can serve their customers. In addition to making sure that their amazing food is available for takeout and delivery, they have a kind of "grocery store" option now, too. Here, folks can buy things that may be difficult to buy elsewhere: bleach, toilet paper, gloves, fruits, vegetables, eggs, meats, bread, and more. It's one more way that Wood Silverlake can be there for their customers. 
What We've Done For Them: 
In these blogs, we tend to highlight clients that offer important services for their customers. Bankruptcy attorneys, environmental cleaners, and similar businesses all provide services that can change and/or potentially save their customers. Pizza may not seem quite as important as those – but it absolutely is.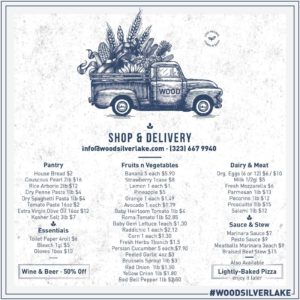 Even during a time as difficult as this one, it's important to feel good, to have fun. In fact, it may even be more important now. Wood Silverlake does something crucial right now: they give folks a chance to enjoy themselves, something to look forward to. Everyone likes pizzas. They even have vegan options and others for the more health-conscious. Having a good time and enjoying one's self is as important to lasting health as anything else. We're proud to work with them on their digital marketing and so much else. 
We've helped them to do quite a bit better on their rankings, too. As of the last report, they've reached the top Google Position on the first Google Page for "Wood pizza delivery" and are second for "pizza Silverlake" and "wood pizza near me." As you might imagine, in this area, those keywords are competitive. They've even gone up 19 spots on the word "pizza on sunset." They have amazing food, and it's rewarding to see more people become aware of them. 
For more people to become aware of your business, as well as to figure out new ways to thrive in any business environment, you can schedule a consultation with Danny Star at: (213) 457-3250.