"Every time we do something with our marketing, it feels like the same old thing we've been doing." 
That complaint, worded in many different ways, is something that the Danny Star Contribution Team has heard multiple times over the years from clients. 
If you've been in business for a while, if your growth is stagnant, then it makes sense that you could feel "stuck." Many business owners, marketers, and others feel like they've tried the same thing, over and over, but aren't what to do instead. 
After all, trying something entirely new could work, leading to greater success. However, it could also fail, causing you to do much worse than you're doing now. Hence, inertia. 
One way to get around this problem: reframe what you're doing.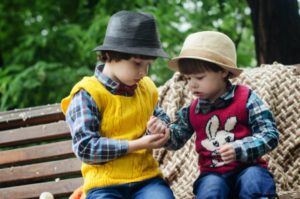 Showing, Telling, and Sharing 
Something Danny taught the team here: when you're trying to think of a different way to do something, try a different way of thinking. 
To use an example from content marketing, come up with an entirely different approach in your mind. 
For example, most of us know the idea of "show, don't tell." instead of simply explaining something to prospective customers ("our products/services are the best," etc.) show them. That could be through a video, pictures, infographic, and more. "Showing" doesn't have to be visual (although it often is). Testimonials, even written ones, can be "showing." 
It can be especially helpful in terms of resources. 
When you talk about what you can offer your customers, what you can do, it can feel like, well, talking and telling. Instead, if you aren't sure what to do, think of it as "sharing." You're sharing your knowledge with others. You're sharing what you can do for them, in hopes that they can use it for their lives. 
That's the kind of reframing that can make something "old" seem new again, vital and important. 
For help with growing your business, you can schedule a remote marketing consulting in Los Angeles session with Danny Star at (213) 457-3250.