What They Do: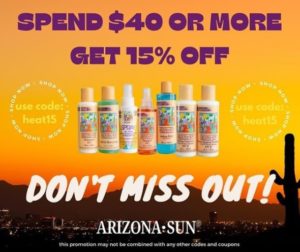 The best, safest, and most effective sun and skin care products. If you've read our blogs for any length of time, then you may have noticed that Arizona Sun has been "Client of the Week" multiple times. There's a good reason for that: they're excellent at what they do.
Now, as spring is in full bloom and more and more of the world becomes vaccinated (and thus wants to spend more time traveling/being outside), we felt it was only right to highlight all that Arizona Sun offers. 
Specifically, they offer paraben-free lotion, which can let you stay in the sun without doing any harm to your skin. Moreover, as the temperature rises, more of us will be playing the sports that we love. To that end, they now offer "All Sports Blok." These are sun and skincare products that are specifically designed to help when you're golfing, cycling, biking, and surfing. These sprays and lip balms won't sweat or rub off while you're engaged in some heavy physical activity (and they're effective even if you aren't engaged in those activities, either). 
Whether it's for summer, Mother's Day, or other special occasions, Arizona Sun usually runs one promotion or another, so that you can get money off above a certain price. 

What Danny Star and the Team Have Done for Them: 
As we've probably said before, Arizona Sun's products are carefully designed and the very best in their industry. So, really, our job is just to make sure that more folks see the products because then they'll absolutely want to buy. 
To that end, we've helped them to rise to the top of the Google Rankings and hold onto the keywords that are most important to them. Those keywords include "Arizona suntan location," "lip balm on a rope," "Arizona lip balm," and more. They're currently climbing fast with keywords like "Arizona skin care," "suntan lotion companies," and others. 
To achieve similar results, you can schedule a remote marketing consulting in Los Angeles session with Danny Star at (213) 457-3250.