What They Do: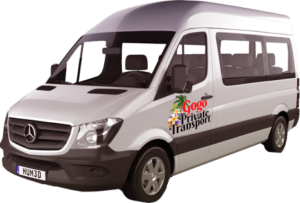 Simply put, Go Go Private Transport provides the very best round trip Honolulu airport transfers. With strict adherence to all COVID-19 safety protocols, they will take you from Daniel K. Inouye International Airport to your hotel, essentially anywhere on the island. 
Moreover, they'll do it in style, too. They have vehicles to cater to just about any size of group, with plenty of Mercedes Sprinter Vans to spare. 
You'll never have anything to worry about when you travel with them. Child car seats, extra space for your bike, golf clubs, or anything else that's even a little bulky – they've got you covered there, too. 
They load and unload your luggage, whether you're going to or from Waikiki, Ko'Olina, Aulani, the Four Seasons, Kahala, or plenty of other locations on the island. 
They'll track your flight through the air, and then be there right when you land. Always, of course, ready to offer you a lei for landing in Hawaii. 
What Danny Star and the Team Have Done for Them: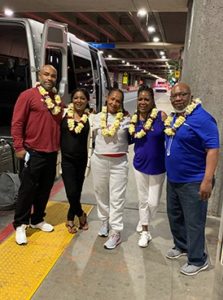 Every company that Danny Star and the team work with do something good for other people. This company, in particular, understands that folks who fly to Hawaii are probably quite tired. So, they make it easier on them whether they've traveled to Hawaii for pleasure or business. 
To that end, Danny and the team have helped them to climb much higher in terms of the keywords that matter to their business. 
For example, on keywords like "Aulani airport shuttle," "Ko Olina resort shuttle," "Waikiki private shuttle," and "Honolulu private shuttle," they've climbed eight, four, eleven, and three spaces respectively. In fact, with some rising keywords, they've gone as high as 23, 55, and even 71 spaces in the span of just a month. This is merely the beginning of our time working with them, and we look forward to them going even higher. 
To grow your business in a similar fashion, schedule a remote marketing consulting in Los Angeles session with Danny Star at (213) 457-3250.