What They Do: 
JP Builders & Development is a premier general contractor in the Los Angeles area. As a true general contractor, they have a wide variety of specialties. Custom home building, residential and commercial renovations, room additions, kitchen remodeling, bathroom remodeling, earthquake retrofitting, all things ADU construction, and so much more, all with an eye towards sustainable, eco-friendly construction. 
They have an extensive, impressive portfolio. You can check it out at their site. Alternatively, you can drive around Sherman Oaks, the San Fernando Valley, or just the Greater Los Angeles region to see their work for yourself. 
Beyond their technical prowess, one factor that sets JP Builders apart is their client-first approach. They work closely with the client as well as designers, architects, structural engineers, civil engineers, and anyone else so that they can deliver a successful construction project on-schedule that exceeds the client's expectations.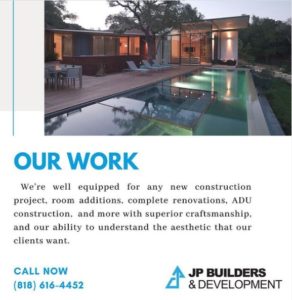 What Danny Star and the Team Have Done for Them: 
One of the best things about this job is that we're able to work with truly top-notch, successful clients. JP Builders are so good at what they do. Our job is just to make sure that more people know about it. 
JP Builders has been focusing on ADU construction and keywords related to that. This makes sense in the Los Angeles housing market. There's a real demand for ADUs (as well as the fact that JP Builders are true masters at ADU construction). 
To that end, we've helped them to rise higher on the first page of Google (in some cases even going as high as five spaces higher). Moreover, we've done that for keywords that truly matter like "ADU construction LA," "ADU contractor," and "ADU construction Los Angeles" respectively. 
We've only started working with JP Builders but we're excited to continue this journey. 
To see similar results for your company, you can schedule a marketing consulting in Los Angeles session with Danny Star at (213) 457-3250.