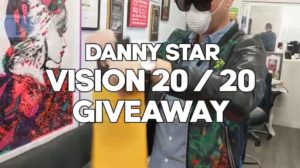 Danny wants to help businesses that have been affected by the pandemic as much as possible. So, he's offering a free copy of his book as well as a 30 minute consultation to any business affected by the pandemic. This is a great way to help your business to get back on its feet and to grow for the future.
Often, we're asked: "what's a marketing consulting in Los Angeles session with Danny like?" As they differ from one business to another, no two consultations are ever the same. However, there is one way to get a good feel for what the sessions can be like: reading Danny's book. "Vision 20/20: The Secrets of Digital Marketing and Its Role in Growing Your Business" can serve as a foundation. It lets you know where Danny is coming from.

A Literal Blueprint for Growing Your Business Online
For many small business owners, growing your business online may seem difficult, if not downright confusing. After all, you're expected to do so much: put out social media, build a website, all while somehow utilizing SEO in addition to maintaining a sterling online reputation. Danny Star's book shows how you can do all of that regardless of what business you're in. This isn't one of those books that says: "here's how other people succeeded. As for you, well, uhh… good luck!" Instead, this book shows what you can do today to help grow your business in the ways that you want it to grow.
Free, Safe Giveaway
If you sign up at the site, you can get a free copy of Danny's book. As this blog is written during the COVID-19 pandemic, we make sure that your book is handled in the safest way possible. Everyone involved wears the right gloves, clean hands, social distancing – all of it. That way, you can get the business help you need in a secure, safe manner. Audio versions of the book are available as well. To schedule a session with Danny (at reduced COVID-19 rates) you can call (213) 457-3250.