What They Do: 
A law firm of the very best immigration lawyers in Los Angeles, the Paniotto Law Firm is dedicated to helping folks with their immigration issues. For many years, they've helped people to apply for visas and permanent residences in the United States, based on requests for political asylum. More than just helping individuals, they help entire families. 
Really, any week of the year we could pick practically any of our clients to be "Client of the Week." We felt that the Paniotto Law Firm deserved special recognition because they offer a new, possibly time-limited service. 
On March 9th, 2021, the Biden administration designated Venezuela as one of the countries whose citizens can apply for "Temporary Protected Status." As you might imagine, that's complicated, but it means that many people from Venezuela in the California area could be protected from deportation. Additionally, in some cases, they can qualify to become permanent residents, too. 
That's just the kind of excellent work that the Paniotto Law Firm is doing now. As circumstances change, they will respond accordingly, always in a way so as to do more for their clients.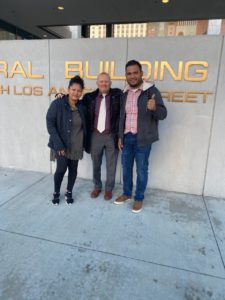 What We've Done for Them: 
We're always so glad to be able to put the Paniotto Law Firm in front of more people whose lives they can help. This company, by virtue of their work, literally does improve the quality of their clients' lives. 
As of this writing, they currently have at least nine of their most important keywords on the first page of Google. We say "as of this writing" because that number could be higher by the time that you read this. Additionally, many of their keywords that aren't on the first page right now are climbing fast. 
While the Paniotto Law Firm is a special case in terms of what they offer to their clients, we've helped businesses of all kinds get onto the first page of Google and continue climbing. To schedule a remote marketing consulting in Los Angeles session with Danny Star, call (213) 457-3250.