What They Do: 
Provide teledentistry. An online platform for dentists to connect to people in need, Denteractive makes it possible for more people to receive the help of dental professionals than ever before. Available 24/7/365, people can get emergency dental help. Additionally, it helps people to find dentists in their area, lets dentists better manage their resources, and more.  Denteractive was one of our digital marketing clients in the past, and they returned to us recently.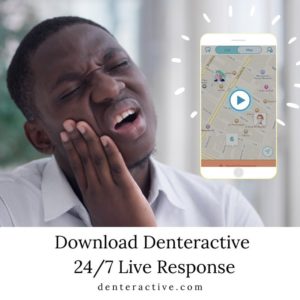 How We Help: 
There are some companies that are exceptionally well-equipped to adapt to a changing business landscape. Denteractive, since its inception, was always able to help people with dental emergencies, connect dentists to patients, and so forth. Now, in the time of the COVID-19 pandemic, this telehealth service can be a genuine lifesaver. 
What was "convenient" before the pandemic is now a safety necessity. That's something all business owners can take from Denteractive's rise. When people have problems with their teeth, they need to get them fixed immediately. They can't wait around. But, during the pandemic, the last thing anyone wants to do is go to see a dental professional, sit in that waiting room seemingly forever, and so forth. 
Denteractive makes it so that people don't have to do that. Even if someone doesn't have a dental emergency, they can still use the service to find a dentist that's in their area and takes their insurance. We're proud to partner with Denteractive, one more company that's helping to improve peoples' lives in a real, tangible way. 
It would be wonderful if, somehow, the pandemic were to end tomorrow and we were all able to step right back into our lives. However, that's not going to happen. Denteractive will be providing a service that will make people healthier for a long time to come. That's true in many different ways. We're helping them to rise even higher in the search rankings, so that they can help even more people. 
There is always some way that your business can better adapt to the challenges as well as the opportunities ahead. To schedule a business consulting session with Danny, call (213) 457-3250.