What They Do: 
They paint. Beautifully. Just Right Painting provides painting that's, well, just right for interiors and exteriors all throughout Southern California. Apartments, homes, small businesses, worldwide corporations, and everything in between – if there's a kind of building, Just Right Painting has performed high-quality painting on it. 
Moreover, they've painted just about everything that can be painted, too. From the exteriors of massive buildings to cabinet refinishing, roof coating to floor coating, Just Right Painting makes just about anything look exactly how their clients want it. 
They've been providing this level of service for more than 17 years. In that time, they've worked with almost too many Home Owners' Associations to count. As you might imagine, those are painting jobs with very specific, demanding needs. Just Right Painting has always understood those complexities, meeting their high standards. 
Completely licensed, bonded, and fully-insured, Just Right Painting offers more than just great painting, they offer peace of mind. That way, no client has to worry at any step of the painting process.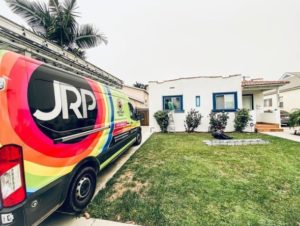 What Danny Star and the Team Have Done for Them: 
With a company like Just Right Painting, all Danny Star and the team have to do is put their work in front of more people. 
They're so good at what they do, that when folks in need of painting see what Just Right Painting offers, of course they're going to reach out. 
So, it definitely didn't surprise anyone on our end when we saw that they got hundreds of new users through Google Analytics in the last month. Nor were we surprised by the sheer number of people who clicked through their site or found them on Google My Business. We're glad to be able to help them to rank a whopping 23 keywords on the first page of Google. 
You might say: "OK, that all sounds great, but you're doing that for Just Right Painting. Obviously, they're very, very good at what they do." Sure. But, Danny and the team can help your company to reach that same level of success, too. To schedule a remote marketing consulting in Los Angeles session with him, call (213) 457-3250.