What They Do: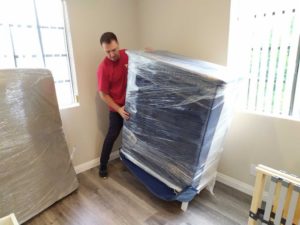 Help people move. Zoom Movers is a Los Angeles-based moving company that offers local, commercial, and labor only moves. With an eye towards making sure that everything is done right, they wrap all furniture in blankets as well as shrink wrap, drawing from their unlimited supply. 
During the COVID-19 pandemic, they've really stepped up with an even greater commitment to keeping people safe. So many people have moved in and out of the area, and Zoom has made sure that these moves are as safe as can be. That means following social distancing, following CDC-recommended hand washing, and so much else. As you might imagine, not all of that is easy during a stressful move, but Zoom has gotten it done. 
What We've Done for Them: 

As with so many other clients, we've helped them to expand their reach. At this time, there are many people who need to move. Maybe they can't pay their rent, perhaps they want to return home to be with loved ones, they could be consolidating their assets and so forth – there are all kinds of reasons that people might need to move right now. 
Zoom has made it easier for them to do exactly that. Our digital marketing has helped by putting their company in front of that many more folks. For example, in the last month, they've climbed sixteen spots with the keyword packing service Los Angeles and an incredible 67 spots with the word "affordable movers Los Angeles. The latter is a keyword that, as you can probably imagine, has a lot of people searching for it right now. 
Zoom Movers offers a fantastic service, backed by experience, at great prices. So, we've just had to do our part to put them in front of more people. It's possible to do the same for your company, too. To schedule a consultation with Danny to go over exactly how, call him at (213) 457-3250. Reduced COVID-19 pandemic pricing is available.