What They Do: 

Since 1967, Dale's Valley Electric has provided so many residential and commercial electric services to the San Fernando Valley and surrounding areas. 
When people hear the word "electrician," they might have too limited an understanding as to what that actually entails. Dale's Valley Electric can help with new meters and electrical panels, but also with recess lighting and even kitchen remodels. 
A family owned business, Dale's Valley Electric has assisted with any number of electrical issues for more than fifty years. They understand how important working electricity is
An electrician has to be trustworthy, and Dale's staff absolutely fits the bill. Professional and always on time, they are an example of a small business that helps a very large number of people.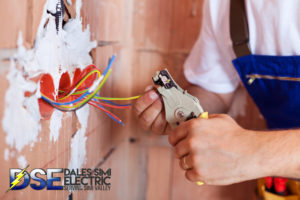 What We've Done for Them: 
You don't have to be a multinational corporation to find success on Google. 
Indeed, so many of our clients are companies that work hard for a community. So, their goal is to be able to reach more people within that community. 
That's exactly what we've been able to do for Dale's Valley Electric. 
Proper, functioning electricity is so important. That's particularly true during the summer months in the San Fernando Valley. (No one's going to be remotely happy, to say nothing of productive, without functioning air conditioning.) 
So, when we help Dale's Valley Electric to rank higher through our digital marketing efforts, we're really helping more people to live and work in comfort and contentment. 
To that end, we've helped them to reach just about the very top of the Google rankings for incredibly important keywords like "electric panel Chatsworth," "residential electrician Chatsworth," and "residential electrician Reseda." 
Those keywords are specific, yes, but they're each different neighborhoods that they serve. Moreover, we've helped them to rank highly for other, nearby neighborhoods, too. 
To have that same kind of success, you only need to make a phone call. A remote marketing consulting in Los Angeles session with Danny can help. You can schedule one for reduced COVID-19 pricing at (213) 457-3250.