What They Do: 

With more than 25 years of combined experience, Castillo Landscaping and Tree Services provide top-quality landscaping and tree services. That means that they provide a wide range of services. Yes, they can safely, securely, and quickly remove trees (even palm trees). 
Additionally, they can do the delicate, specialized work of trimming palm trees, too. They can prune and trim just about any kind of tree, in fact. Stump removal is one of their specialties as well. 
That said, they can provide many other services that aren't just limited to getting the most out of the trees that you already have. "Landscape management services" actually includes many different services for your home and lawn. 
They could be mulching, weeding, irrigating, fertilizing the lawn, aerating the lawn, managing the bed you already have, pruning your shrubs, and even edging as well as mowing. (There's quite a lot of difference, as you might imagine, from having your lawn mowed by experienced professionals rather than just local teens from your neighborhood). They can even offer seasonal color and clean-up services as well. 
If you're in the Southern California area, they can help your property in so many ways. 
What Danny Star and the Team Have Done for Them: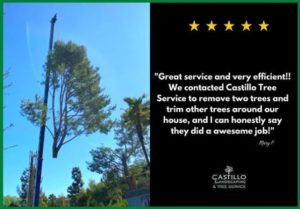 With as many great services as Castillo Landscaping and Tree Service provides, really our job is just to make sure that they're in front of more people. 
When folks see the portfolio, the reviews from satisfied customers, the videos and more, of course they're going to want to go with the pros from Castillo. 
They're towards the top of the first Google pages for keywords that really matter to their business, such as "tree care in Pacoima," "landscape and tree service," "tree removal in Pacoima," "tree trimming in Pacoima," and so forth. 
Even many of their keywords that aren't on the first page of Google yet have risen 29, 31, and 30 places respectively, all in the last month. We look forward to continuing to see their online presence grow as they do excellent work. 
For this kind of success for your company, you can schedule a marketing consultation in Los Angeles session with Danny Star at (213) 457-3250.